August 28, 2022
Santa Paula Concert Series presents
Landmark String Quartet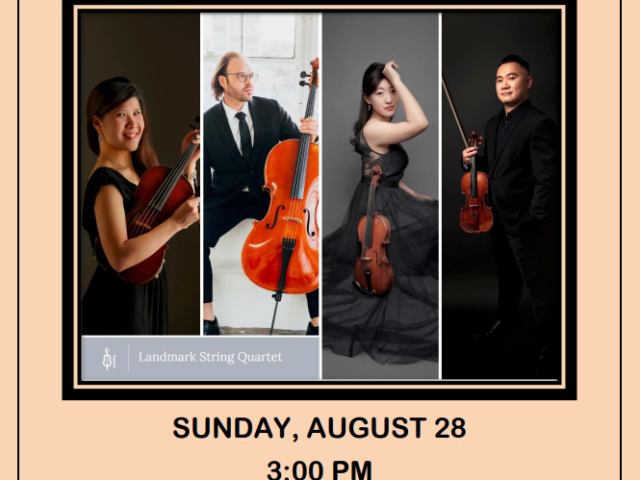 Day and Time
Sunday Aug 28, 3:00 PM - 5:00 PM
Details
The Santa Paula Concert Series brings you the world: Landmark String Quartet
The Santa Paula Concert Series presents a classical concert by the Landmark String Quartet on Sunday, August 28 at 3 PM at the historic Universalist Unitarian Church, a Ventura Historical County landmark, located at 740 East Main Street, Santa Paula. Masks optional but preferred.
The program will feature the Mozart String Quartet KV 458 in B-Flat major, Edvard Grieg String Quartet No. 2 in F Major and "Song of the Mount Nemrut Statues" by Cem Oslu (which is part of Project Mozaic, a collection of seven pieces commissioned by Gedik Sanat, each one for a different geographical region in Turkey.)
Landmark string quartet, formerly known as Sincopa String Quartet, was established in 2015. Since 2019, they have rebranded themselves as Landmark String Quartet due to the inspiration from their supporters' suggestions and comments. Members are Sheng-Ching Hsu, Steve Chiu, Jennifer Wu, and Mark Bassett.
They tell us: "Landmarks can be new or old. They can also be innovative or historical. No matter what it is, a landmark always has a story to tell. This is Landmark String Quartet. We tell stories. We are standing in the landmarks of music, bridging our listeners to the world of music. Our goal is to rejuvenate classical music for the new generation, bridging the gap for people to enjoy all genres of music."
The members of Landmark String Quartet may have different musical and life backgrounds, but one thing that unites the musicians is the belief in chamber music. They believe that playing chamber music is a form of communication that requires no words. They also believe in bringing our audience into our world and being a part of that music. "Through our performance, we take our audience to the landmarks of the music!"
The Universalist Unitarian Church of Santa Paula has been home to a number of musical events throughout its 129 year history. Admission is $20 donation at the door, from the church office during office hours, or by Paypal on the church's website: www.uucsp.org. Credit cards, checks and cash are accepted at the door. Children 12 and under are $10; children 5 and under are free. Any proceeds benefit the Universalist Unitarian Church of Santa Paula Building and Historical Fund. For more information, call 805-525-4647 or email uuscpoffice@gmail.com. Parking is on the street or behind the church.
LONGER BIOS:
Born in Taiwan, Sheng-Ching Hsu was six years old when she made her first public appearance as a violinist and a pianist at the National Cheng-Kung University. She has performed in venues such as the Lincoln Center for the Performing Arts, Carnegie Hall, Teatro Municipal de Santiago (Chile), Remonstrantse Kerk in Alkmaar (The Netherlands), Théâtre de l'Île-Saint-Louis (Paris), National Recital Hall (Taiwan), as well as part of the inaugural Lincoln Center Stage Piano Quintet on Holland America's ship, the ms Koningsdam, where she worked with composer George Fenton and made the debut of his BBC earth-Frozen Planet Live. Sheng-Ching earned her BM degree from the Mannes College of Music, MM degree from The Juilliard School, and DMA degree from SUNY Stony Brook University. Her major teachers include Catherine Cho,
Christina Khimm, Itzhak Perlman, Aaron Rosand and Philip Setzer. Sheng-Ching is currently based in Los Angeles where she created S-C Sidewalk Performances during the pandemic that brought live music to people without going to
concert halls. Sheng-Ching is also a music arranger; recent commissions include The Star-Spangled Banner for the New Asia Chamber Music Society for the New York Knicks' Lunar New Year game in Madison Square Garden. She is also a pianist and an
educator. (www.shengchinghsu.com)
Steve Chiu is a Taiwanese professional composer, violinist, and Erhu player in Los Angeles. Chiu's 33 years of classical music training effectively helped him cross into other kind of contemporary music forms, be able to analyze and enjoy them with ease. In addition to Chiu's proficiency on his instruments and strong knowledge on the classical style allowed him to complete projects in a short time. Chiu receiving degree in Film Scoring led by the chair George S. Clinton from Berklee College of Music.
Chiu has performed with Adele – One Night Only, Beyonce 94 Oscars "Be Alive", Dream Orchestra, Ron Carter, Jorge Drexler, Ivan Lins, Nobuo Uematsu, Dream Theater, Eugene Friesen, Donna McElroy, Luis Enrique, Angel Blue, Sonic Open Orchestra and more before.
Equally renowned as a chamber and orchestral musician, Jennifer (Chia Chuan) Wu's experience as a classical performer and commercial recording artist spans the horizon of the Los Angeles area. Ms. Wu regularly performs with the Dream Orchestra, Dana Point Symphony Orchestra, Bakersfield Symphony Orchestra, Fresno Philharmonic . These opportunities led to tours in European festivals, including Incontri in Terra di Siena, as well as local performances at the Walt Disney Concert Hall and Zipper Hall. Highlights from the 2020 to current, during the quarantine, she has become the violist resident of Constellation Quartet. 2017-2018 season include acclaimed performances by Ms. Wu's Landmark String Quartet at Palm Spring and Santa Paula, special engagements to perform for the developing musical 'Headless', on tour at the Dolby Theater with international pop-sensation Shahkar, and recording credits for Netflix original series, 'Chef's Table'. Highlights from the 2015-2016 season include performances at the Hammer Museum, Fullerton College, and Walt Disney Hall. Ms. Wu started playing the viola at age seven, and continued university studies in performance with Diane Nicoleris at San Jose State University, and with Richard O'Neill at University of California, Los Angeles. Ms. Wu's early international performances were at Carnegie Hall, the National Concert Hall of Taipei, the China Conservatory of Beijing, and at other major Taiwanese cities.
Mark Bassett's high-octane and dynamic cello playing has led him to create music with a vast variety of genres and performers. A graduate of the New England Conservatory of Music, Mark has collaborated with artists like Josh Groban and Lindsey Sterling. He has toured with bands such as Evanescence, Hanson and Celtic Thunder. Now residing in Los Angeles, his passion for film and video game music has led him to be an in demand recording artist. Recent recordings include Hollywood films such as Charlie's Angels, Bad Boys For Life, and Frozen 2. Mark has also performed on popular games like Final Fantasy XV, Final Fantasy XII: The Zodiac Age, and performed at the 2019 Game Awards. As a classical musician, Mark has recently collaborated with chamber groups such as the Philadelphia String quartet and the Calder Quartet, performed as assistant principal cellist of the Fresno Philharmoic and principal cellist of the Zelda: Symphony of the Goddess tour. Mark is a founding member of the Pascale Quartet.