May 11, 2019
Santa Paula Concert Series presents
Landmark String Quartet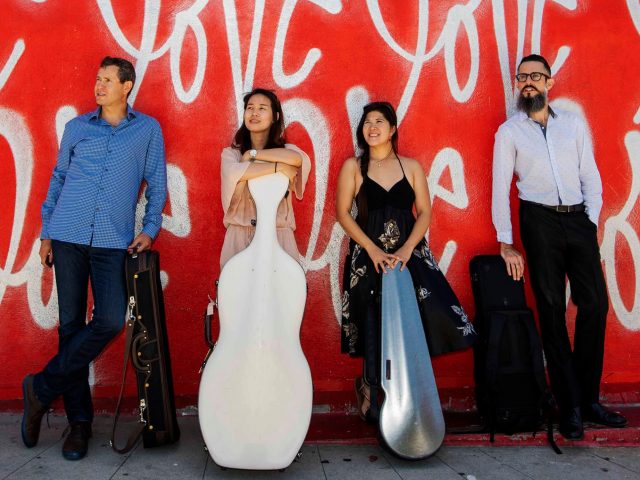 Day and Time
Saturday May 11, 7:00 PM - 10:00 PM
Details
A classical concert by the Landmark String Quartet.
The Landmark String Quartet changed their name in 2018 from the Sincopa String Quartet, drawing inspiration from their supporters' suggestions and comments. Their goal is to rejuvenate so-called classical music for newer generations. They want to bring the live music into every corner in the world. Does classical music only belong in a serious concert hall? Is classical music boring? How can we help this generation under the influence of Instant Culture enjoy live music? This is why they renamed themselves the Landmark String Quartet. Landmarks can be new and innovative, but it also can be old and historical. With either new or old landmarks, there's always a story to tell.
Landmark String Quartet, as the former Sincopa String Quartet, played the Santa Paula Concert Series in 2016. They have also played at many other venues including the Ojai Art Center Concert Series and Desert Hot Spring Concert Series. The members of Landmark String Quartet are from very different countries and cultures, yet they met in Los Angeles with the same dream. Each one of us has his or her own accomplishments in music performance. We are mixed with Brazilian, Czech, Korean and Taiwanese cultures! This factor makes us together as one!
The Universalist Unitarian Church of Santa Paula has been home to a number of musical events throughout its 129 year history. Tickets can be purchased on our website and credit cards, checks and cash are accepted at the door. Children under age 5 are free. Proceeds benefit the Universalist Unitarian Church of Santa Paula Building and Historical Fund. For more information, contact us.
Parking is available on the street in front of the church. In addition, there are a limited number of parking spaces behind the church in the alley-way. A handicap accessible entrance with an electric lift is available on the east side of the building next to the side entrance.