March 14, 2023
Gathering with Luzma Espinosa and John Robles, special guests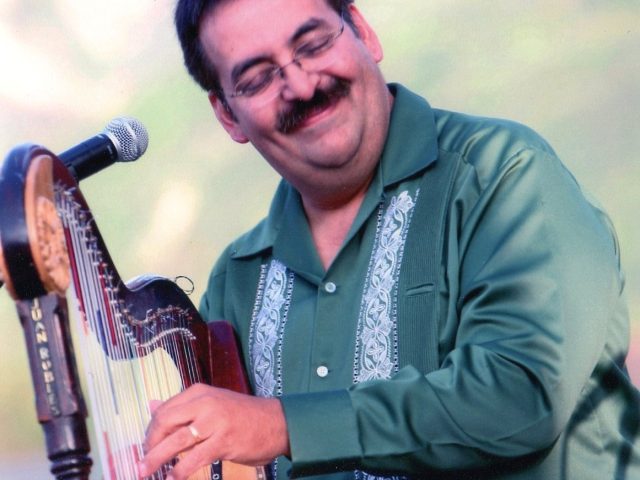 Day and Time
Tuesday Mar 14, 7:00 PM - 8:00 PM
Details
In person and online
Rev. Maddie leads this reflective time in our busy week to hear some inspiring music, share some silence and hear spoken word on a theme which in March is Vulnerability. Poetry by Luzma Espinosa. The music will be provided by harpist John Robles from Chucumite.
John Robles, currently a Ventura resident, is a Santa Paula native. He is a member of Chucumite, frequent performers at the Santa Paula Concert Series and Winter Solstice. Robles plays 'arpa jarocha', or Veracruz folk harp. Chucumite will return to play the Santa Paula Concert Series on Saturday, September 16 at 3 PM for Mexican Independence Day.
Luzmaria Espinosa grew up in Santa Paula. Luzmaria received her BA in Spanish with a minor in Sociology from UCSB, a Master of Arts in Organizational Management from Antioch University, and a certified adult education credential.
Luzmaria "Luzma" Espinosa was born in Uruapan, Michoacan, Mexico. Her family migrated to Santa Paula California in the 50's. The daughter of a railroad worker who moved to work the fields in California. The third of eight children, Luzma found solace in books, imagining a world beyond the confines of her small hometown.
Luzmaria's work experience includes teaching theatre and poetry to children and youth in schools, in the community through non-profit community agencies, and juvenile detention centers. As a coordinator for youth violence prevention/intervention programs, she was influential in developing strong leadership skills with youth who would have otherwise not gone on to school. Whether in schools, in juvenile centers or in the community; she inspired and encourages students to heal by expressing themselves though cultural performances, writing stories or poetry. Past students received their doctorate and are teaching in various colleges and universities throughout the states.
Luzma's lifelong commitment to peace and justice spans decades internationally as well as nationally. Her work includes participation and/or support in international struggles, Chicano Theatre, Danza Azteca, and Performance Poetry. She was at the forefront of introducing Danza Azteca throughout the Tri-Counties, and connecting established Chicano Artists with Ventura County Artists.
Espinosa is a past recipient of CA Arts Council Artist in Residence, SP Latino Town Hall Award in Cultural Arts, and the Jalapeno Award from the Royal Chicano Air Force. She is a member of California Poets in the Schools, a member of the Royal Chicano Air Force, In Lak 'Ech Cultural Arts Center, and LUCHA, Inc. She was inaugurated as Ventura County's Poet Laureate for 2020-2022 and 2022-2024.
Join Zoom Meeting

https://us04web.zoom.us/j/7312177775

Meeting ID: 731 217 7775
Password uucsp93060