October 8, 2023
Santa Paula Concert Series presents
SP Concert Series presents a Benefit for Decolores Multicultural Arts- Familia Moraza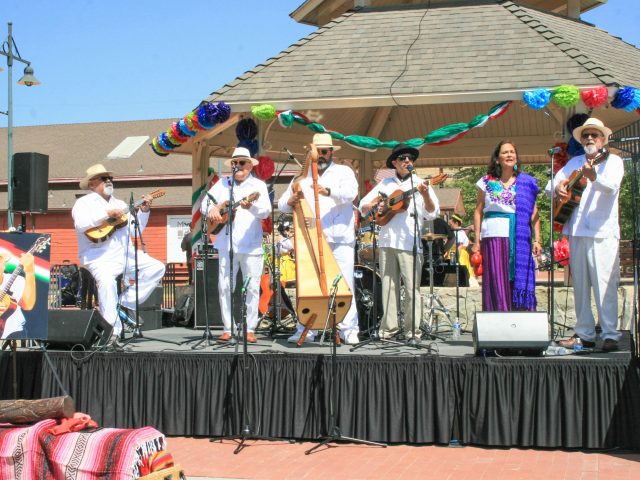 Day and Time
Sunday Oct 8, 3:00 PM - 5:00 PM
Details
The Santa Paula Concert Series presents a benefit for Decolores Multicultural Folk Arts on Sunday, October 8 at 3 PM in the Sanctuary of the Church at 740 E Main Street, Santa Paula.
Conjunto Alma Grande de La Familia Moraza is a family musical group that has been performing "Traditional Regional Mexican Music" for the past 40 years and counting. The traditional acoustic sounds of the group's instruments and voices have delighted audiences throughout the Tri-Counties. The sound of " Conjunto Alma Grande" is centered in the melodic sound produced by the Mexican harp from the region of Veracruz executed by nephews Roman and Xocoyotzin Moraza, and complemented by strumming of the Jaranas, requinto Jarocho and guitar and strong melodic voices of brothers Carlos, Martin, Tony and Lencho with lead singer baby sister Carmelita. For many years Xavier Montes was too, a member of the family group, and the Moraza's will forever be grateful of having enjoyed Big X's beautiful voice and harp playing complimenting theirs.
A Tardeada with Conjunto Alma Grande
Join us for an afternoon concert with the
Familia Moraza a Celebration of Mexican Music
Rancheras, Boleros y Sones
A benefit for De Colores Multicultural Folk Arts
to continue offering free art classes to underserved youth, seniors and homeless in Ventura County.
RSVP (805) 616-8272 or (805) 525-8961
Admission is $25 donation at the door.
Ticket reservations bought online will be on a list at the door.
The Universalist Unitarian Church of Santa Paula has been home to a number of musical events throughout its 129 year history. Tickets can be purchased on our website and credit cards, checks and cash are accepted at the door. Children under age 5 are free. Proceeds benefit the Universalist Unitarian Church of Santa Paula Building and Historical Fund. For more information, contact us.
Parking is available on the street in front of the church. In addition, there are a limited number of parking spaces behind the church in the alley-way. A handicap accessible entrance with an electric lift is available on the east side of the building next to the side entrance.