February 9, 2020
Santa Paula Concert Series presents
Reggie Harris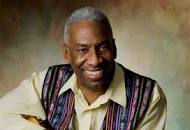 Day and Time
Sunday Feb 9, 4:00 PM - Saturday Feb 8, 6:00 PM
Details
A songwriter of great depth and passion, Reggie Harris writes from a personal sense of mission that merges a world wise point of view with a singularly hopeful stance that life, though often challenging, is filled with possibility and hope. His songs reveal thoughts about life and love and some of the deep aspects of the human experience and cover topics from his own personal journey to world issues and history.
The Universalist Unitarian Church of Santa Paula has been home to a number of musical events throughout its 129 year history. Tickets can be purchased on our website and credit cards, checks and cash are accepted at the door. Children under age 5 are free. Proceeds benefit the Universalist Unitarian Church of Santa Paula Building and Historical Fund. For more information, contact us.
Parking is available on the street in front of the church. In addition, there are a limited number of parking spaces behind the church in the alley-way. A handicap accessible entrance with an electric lift is available on the east side of the building next to the side entrance.