January 14, 2020
Gathering with A Call 2 Peace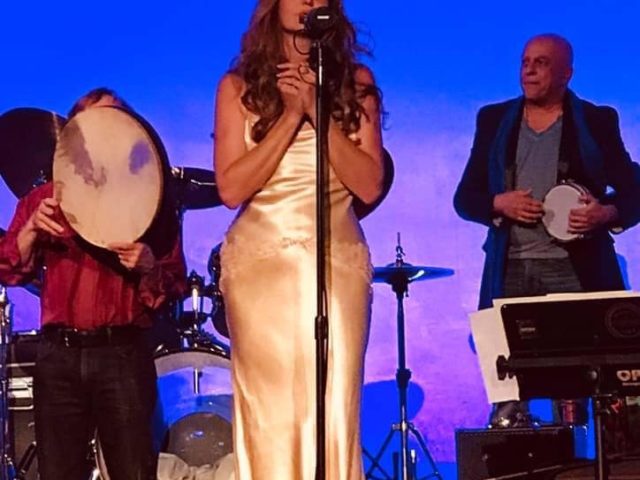 Day and Time
Tuesday Jan 14, 7:00 PM - 8:00 PM
Details
A very special evening with music provided by Grammy Nominees Sonia Kazarova and Eduardo Del Signore with Special Guest Scarlet Rivera.
Rev. Maddie Sifantus will lead the next Evening Gathering with Sound, Silence and Spoken Word at the Universalist Unitarian Church of Santa Paula on Tuesday, January 14 at 7:00 PM. This is a reflective time in our busy week to hear some beautiful music, share some silence and hear spoken word. The music will be provided by Sonia Kazarova and Eduardo Del Signore from A Call 2 Peace. This is the first appearance of Ms. Kazarova in Santa Paula. Classically trained operatic soprano, Sonia Kazarova has sought to combine opera with other musical genres, as well as other classical and modern art forms, including dance, live sculpting, aerialists, rock and world music, poetry and Taiko drumming. Eduardo has appeared in previous Gatherings and with the members of A Call to Peace in the Santa Paula Concert Series. He is a performer, a producer, an educator and a composer. Both are 2020 Grammy nominees for their work with Sekou Andrews & The String Theory. 
Free, but with a free will offering to benefit A Call 2 Peace Foundation. A Call 2 Peace Foundation is a nonprofit organization providing education about, and opportunity to realize, our natural peaceful state of being through the AC2P Concert Series and music workshops in venues around the world.  A truly unique form of cultural exchange and musical collaboration, the concert series uses each event to partner with charitable organizations of peaceful outreach, with particular focus on the protection of nature, human rights, understanding and celebration of cultural differences.
The church is located at 740 E Main Street, at the intersection of Main and 8th Streets. The Universalist Unitarian Church of Santa Paula is one of the oldest churches in Ventura County and one of the first Universalist churches established on the West Coast. It is the oldest church building in the city of Santa Paula and is the bearer of a proud liberal religious heritage that dates back to mid 18th century America. For more information, call 805-525-4670 or email uucspoffice@gmail.com